The purple fantasy that wisteria creates makes me eager to have it near every spring. Seeing this beautiful flower filling up instagram, specially with Limitless Secrets made me want to visit Paris. She's having the most amazing tips where to find wisteria and every possible flower in Paris.
Except that, I wanted som picture postcards from Paris- to create beautiful photos in this fantastic city.
Wisteria appears already in the middle of April but I thought that it will come the earliest at the end of April. If I knew that, I could come earlier and combine it with cherry blossom trees. Maybe would even wisteria look more purple. Anyhow, Paris is always a good idea. Except probably in January.
What is wisteria
Wisteria creates the waterfall of purple flower that flows so gently. It's the flower of the legume family that comes originally from China, Vietnam, Japan and similar.
The name wisteria has taken thanks to American physician Kaspar Wistar. The German name Glyzinien is also pretty popular.
Wisteria filles the walls and streets with stunning visual images. Its climbing flowers flow like the lovely curtain.
Did you know that wisteria is pretty popular in Japan? It's actually the cultural symbol and represents family. Fuji Musume is a kabuki dance where the main role belongs to the lady who has a spirit of wisteria.
Where to find wisteria in Paris
Obviously, firstly I went to Eiffel tower. Definitely, the best time to visit Eiffel tower is sunrise as during the day it's so very crowded. It's impossible to walk around or even take photos. During the sunrise you will be able to see the magical wedding photoshots.
Trocadero gardens and gardens near Eiffel tower enchant the visitors with many lovely flowers. In the mid March cherry blossom trees appear. Wisteria comes in the mid April. About the same time lilac flowers fill the air. Paulovnia with its purple flowers follows the wisteria at the end of April. Roses can be seen at the beginning of May.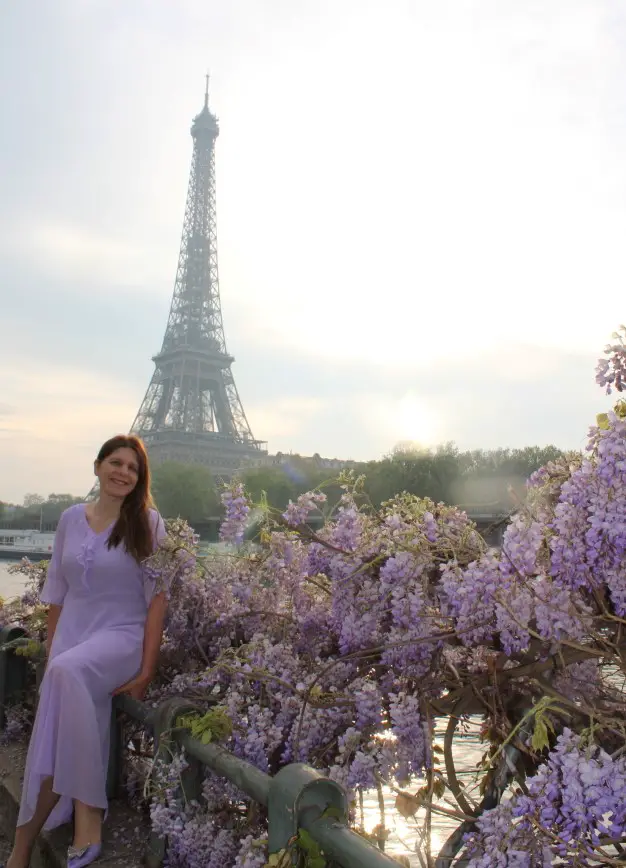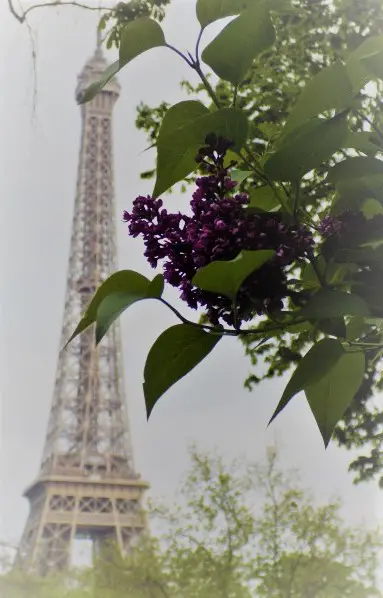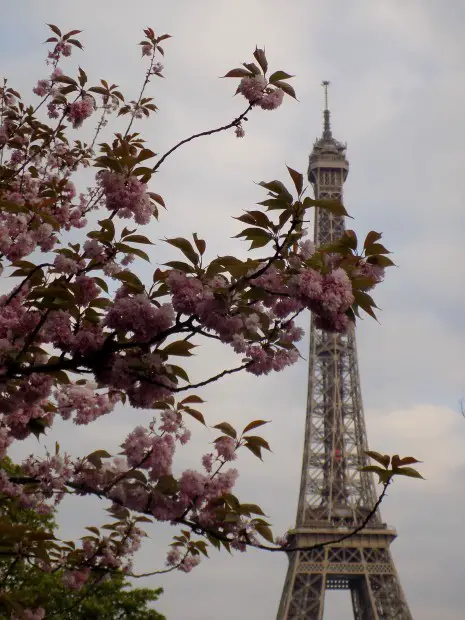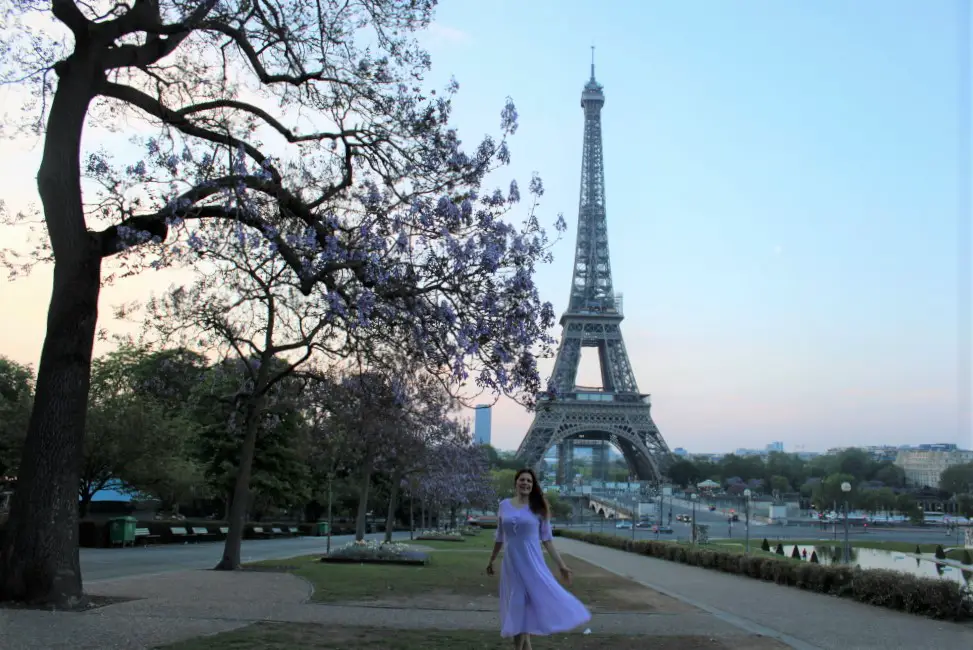 You'll see wisteria just along the promenade of Seine in the same line with Avenue of New York but a bit further. Just cross the street after Trocadero gardens at continue walking at the right side. Eiffel tower will shine so lovely in the sunrise.
Grand Mosque de Paris
The vibes of Marocco and Middle East hide at this amazing place. Beautifully decorated Grand Mosque is even more beautiful with the wisteria.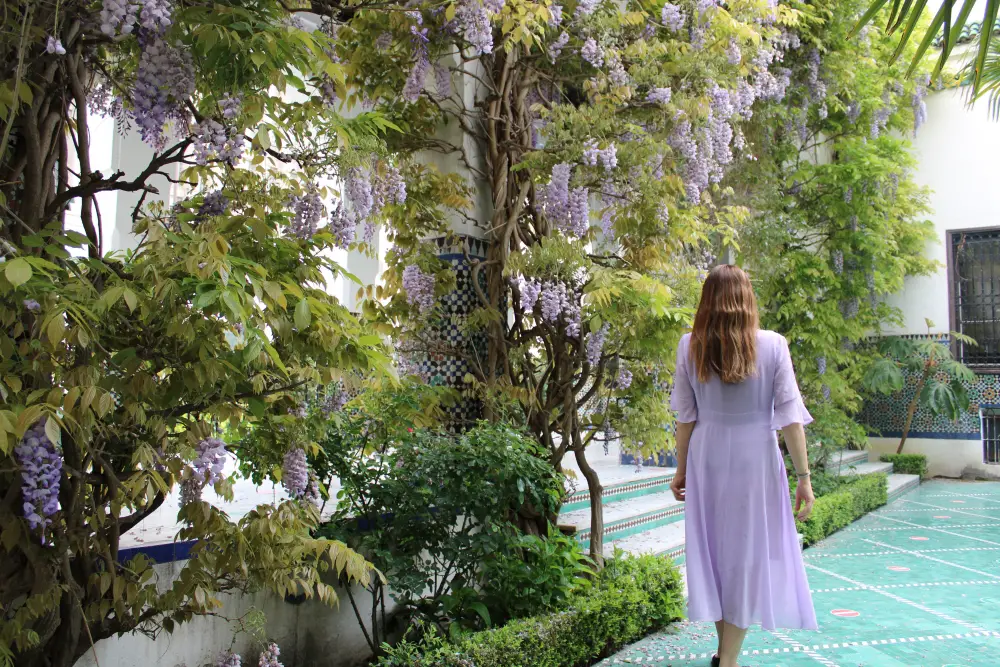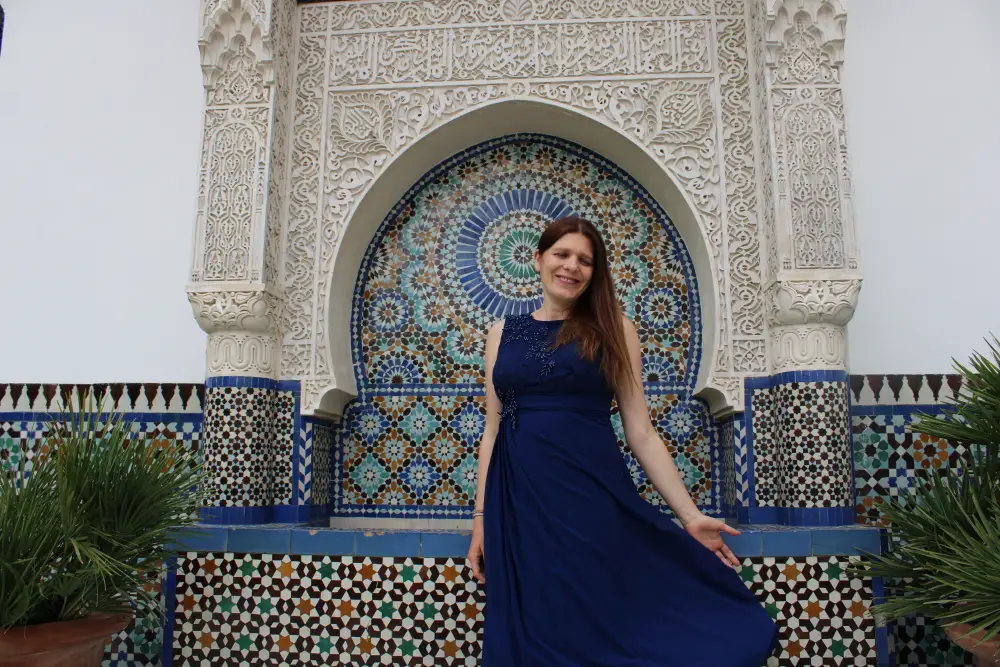 Lovely caffe bar & restaurant stands at the separate entrance with amazing delicacies. I bought pistacchio ball for only 3€. It's also beautifully decorated but much more crowded.
Grand Mosque is opened every day except Friday and entrance fee is 3€, but there was nobody when I came.
This amazing sacral object is located just near Jardin de Plants. Be sure to take advantage of this as it's so nice with cherry blossoms and roses in May.
Au Vieux Paris de Arcole
It's such a cute restaurant near Notre Dame de Paris. Usually it opens at noon, but owner and many people are always walking around. That's why come earlier, at the early hours the sunshine will not disturb you neither.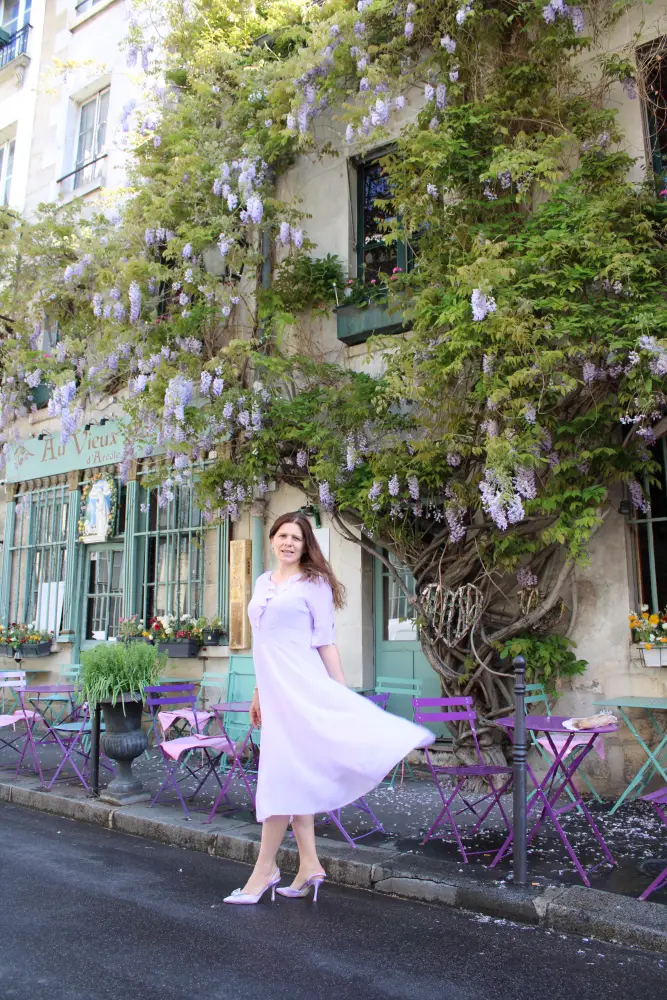 Purple chairs are always there, even when it's not open.
Wisteria in front of the Maison Europeenne de la Photographie in Marais
This place is not far from Notre Dame, just follow the island and navigation. In the adjacent street you'll see the popular restaurant La Favorite. It's so fabulous with pink flowers and I noticed it just by chance. I didn't know that it takes place there.
You can see wisteria at more places such as La Cite Floral but I didn't go. Please consult Limitless Secrets in that regard.
Jardin de Plants
Amazing botanical gardens that unveils its magical paths from the hill is full of plants. At the end of April I even saw magnolia. Roses are pretty popular here already at the beginning of May.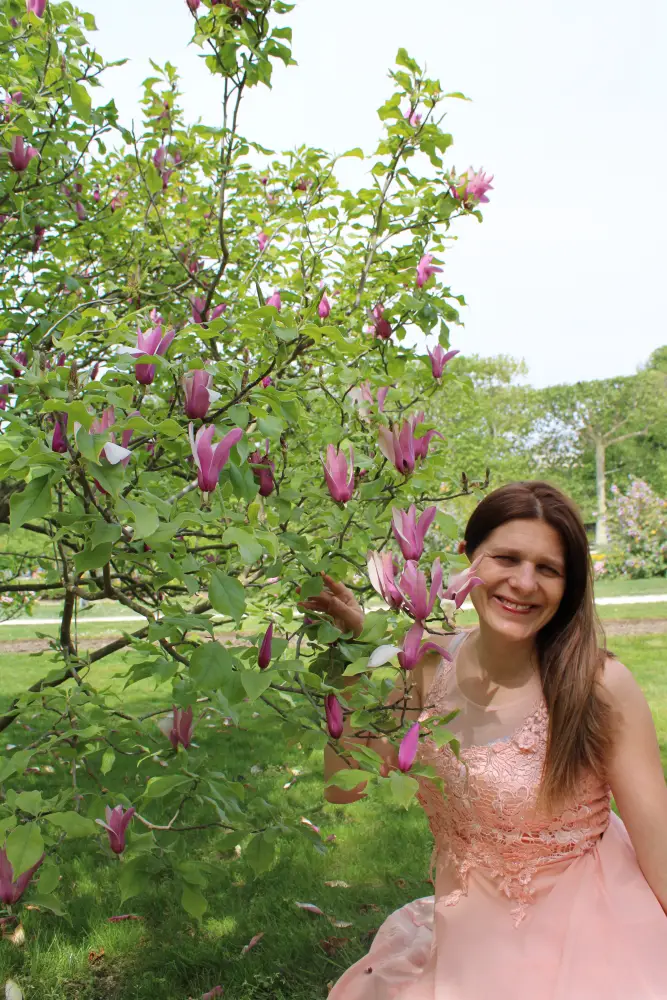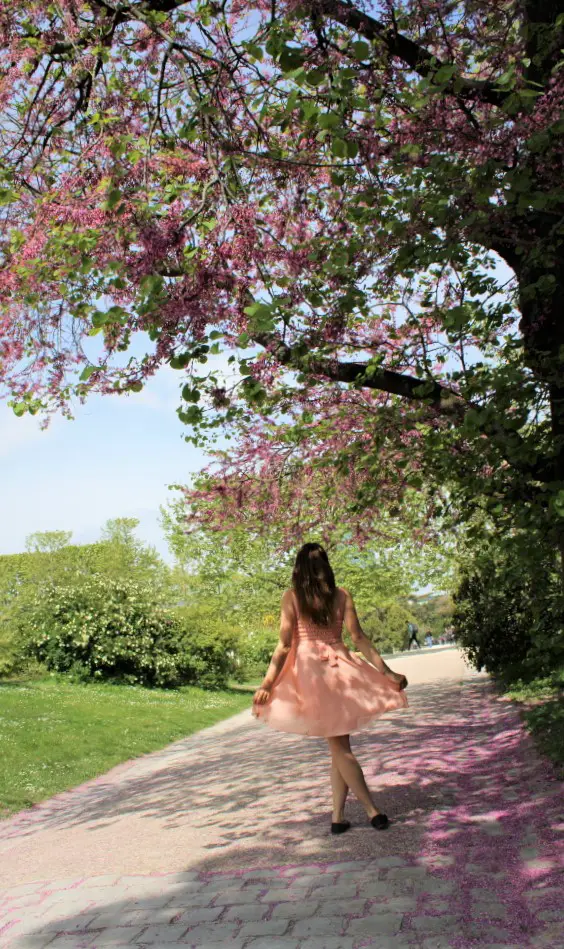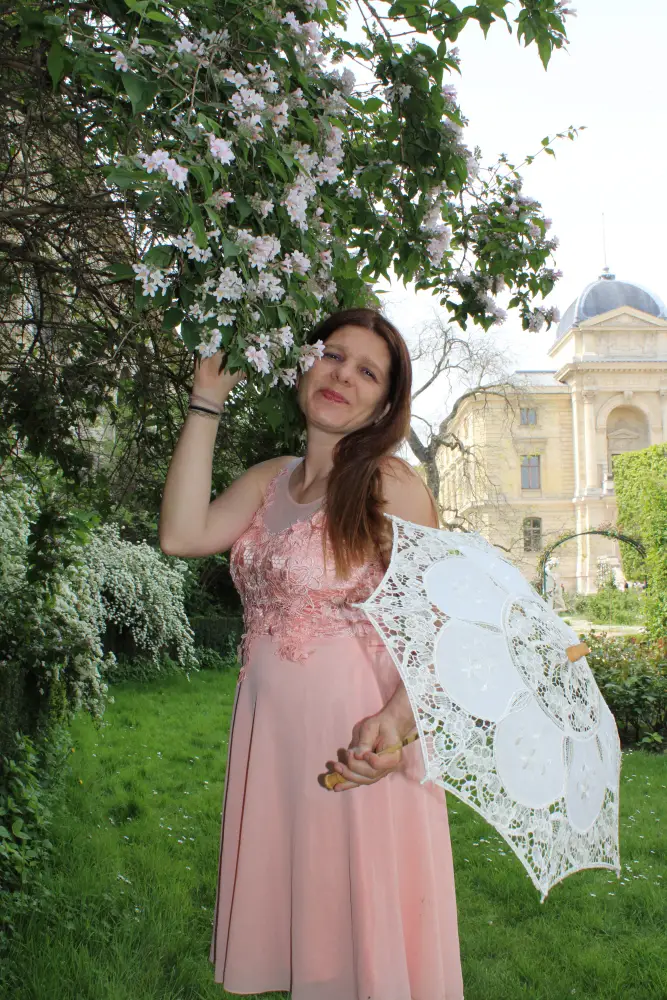 I also saw rhododendrons, lilac flowers, irises and the Tree of Judee. It holds stunning pink flowers taking roots in the Oriental world.
Next time I'll be sure to visit it with cherry blossoms as everything in Paris is so beautiful during this time. With the amazing museums like palaces, the ambience is totally royal.
Floral caffe bars
Though London offers the leading place with floral decorations and abundant places, Paris is charming too.
I tasted Frappe a la pisstachio which is so instagrammable. El&N is the London style caffe in the beautiful Gallery Lafayette having drinks that are even cheaper than parissian little caffe bars.
On the way to Eiffel tower I saw one place like this named Chez Madmoiselle. I wish that I tried something as it's so very cute.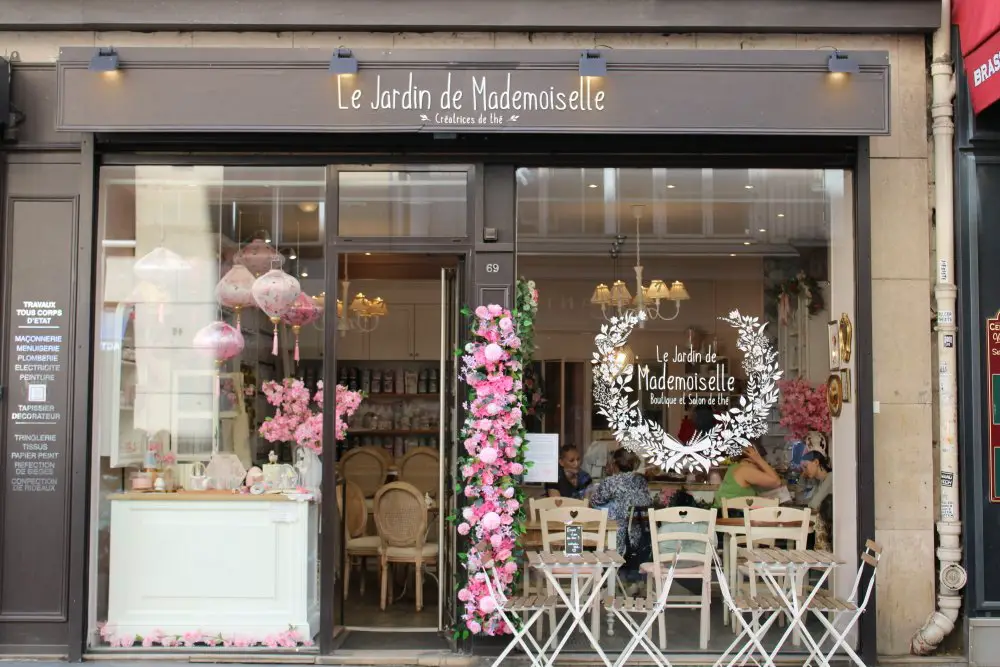 Conclusion
Paris is definitely so beautiful in spring. Last time I visited Parc Floral near Vincennes castle. I was amazed with cherry blossoms and wish to come back next time.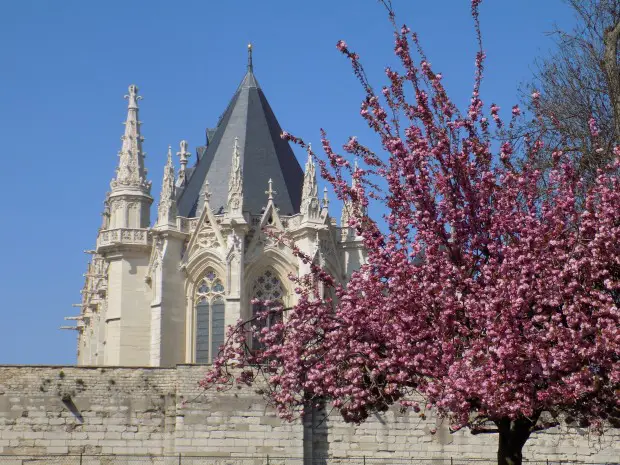 Chateau de Sceau is another magical spot with so many cherry blossoms. Though I didn't see any cherry blossom tree, I saw it at arboretum near Ljubljana. Visiting Slovenia and Soča Valley just after Paris filled my soul with happy feelings and decision to come back.
PIN IT FOR LATER: