Disneyland was my first amusement park and I was allured with the fairy-tale vibes that dwell here. Some people come as the fans of Disneyland, some people are attracted by the fairy-tale magic. Other love some adventure and great fun with friends. That's what I wanted also- fun day with friends. But I couldn't wait as visiting Paris and including Disneyland brings dreamy wishes.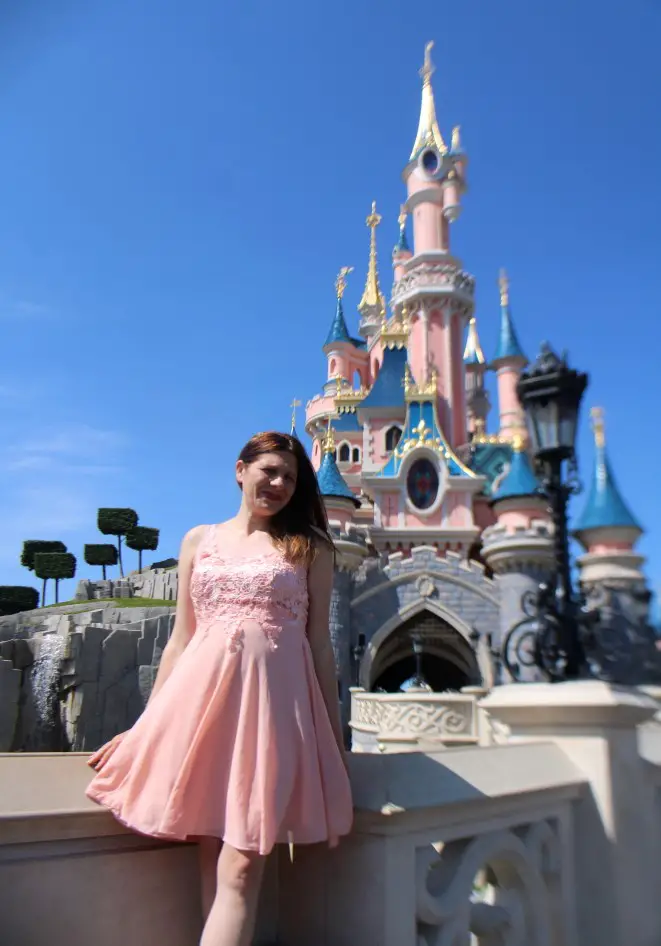 Marne-la-Vallée is the name of the village where Disneyland stands. It's easily reachable with RER. That means if you have a metro ticket for all 5 zones, you don't have to buy an additional ticket.
Disneyland is huge and even 2 days could be little if you want to enjoy it with pace.
What can you expect
Disneyland Park and Walt Disney Studio Park are two parts of this fantastic complex. Disneyland Park is the place to choose as it holds fairy-tale castle and plenty of attractions. Walt Disney Studio Park also has several rides but is much smaller.
Even before entering to Disneyland, you will see a large souvenir shop. Just across the train station the marvel of Disneyland awaits. The whole Disneyland in effect is full of souvenir shops.
2022 is the celebration year marking 30 years of Disneyland. That's why it was wonderful to see the big parade. Luckily, the fairy-tale castle wasn't open untill the parade. It was about 14h so I could take nice photos.
It was lots of fun and fun to see that they also came just to experience it. Without desire for any special ride.
As my camera got broken, I had to leave earlier. But I promised myself that I will come back soon.
Definitely I would love to enjoy Disneyland more deeply. I was pretty amazed with the magic that it evokes unveiling the spirit of beauty. The castles I saw shine with their own allure.
The world that belongs to the Oriental shine also has its place. It's the world of Scheherezade. And Aladin too. You can even visit the Indiana Jones rides, that's what I didn't expect here.
The boat ride took my attention as it passes through stages that open the books of fantasy. In those moments I truly can start to believe in magic. In the lovely ambience the entice is so strong.
Surely I didn't expect so many souvenir shops.
How to buy the tickets
Be sure to buy your tickets pretty in advance. From the official website you can get them already for 75$. It can last one day, 2 or 3 year or even the whole year. Interesting if you want to come back in winter from the spring visit. You can even buy the ticket without the fixed day.
I wasn't in the hurry to buy the ticket as it took me some time how it works. Almost I didn't go when I saw how expensive they got the website, almost 140$. Then I started to Google and found Klook. I got my ticket for 75$. I was a bit worried as the ticket didn't arrive immediately. I needed some confirmation, it didn't even arrive next day but in 48h. The Klook has some really good reviews and I decided to try. The voucher worked really fine at the entrance.
Fairy-tale Castle
Fairy-tale castle is the hightlight of Disneyland. In the pink tone sit awakes the happy feelings. I thought that I will the hidden world of Sleepy Beauty but the upper part was closed. I guess she was sleeping. Except beautiful decor, you will see some souvenir shops also here. Definitely the castle I was dreaming about.
All in all
Disneyland is truly a magical place that inspires positivity and good faith. Returning to childhood becomes so easy realising that the simple joy is around the corner. Playing is the way to discover cheerfulness and use your intuition more.
Have you been to Disneyland and what attracts you there?
PIN IT FOR LATER: