05.12.208.
Lipik is a fabulous little town with only 6674 citizen, together with its administrative area. Situated in the county of Požega-Slavonia it is only one hour drive from Požega, 10 minutes from Pakrac and 20 minutes from Daruvar.
It is famous like some seaside town, inviting with its history and meaning. Some kind of mediterranean spirit is sent here. Specially because it's so small and yet like a queen sheltered with alleys leading to thermal springs, central park and swimming pool.
Visual appearance and history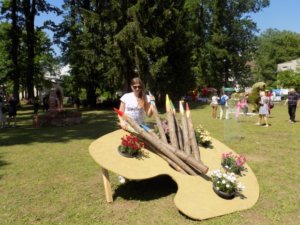 In fact, it is the thermal springs, mineral water and beautiful white horses named lipizzaners that make this place so popular and comfortable. Lipik is situated by the river Pakra, surrounded with Papuk and Psunj. The dominating figure in Lipik are lindens by which the town got name. Thermal springs are elegant buidings in the neighbourhood of the beautiful park. Here we can find flowers decorated in special manner as the biggest bouquet, interesting arbors and other decorations from wood like little piano. Lanterns make the whole park shine like diamonds in their special shape. Even benches look like some animals.
The town itself date some 200 years back though its roots go even further, Lipik is known as the thermal springs of the old Roman empire. During the local war at the beginning of 90's Lipik was hugely devasted. Its remains we can find in ruined buildings at the park. Kursalon was one of the most popular remains in Lipik.
Kursalon was one of the biggest and most popular building in Lipik, made 1893. by the drawing of Gustav Rath from Budapest. It was almost a copy of the one in wiener city park. Inside it contained the hall for concerts and dance, the restaurant, caffe-shop, casino and the hall with piano, hall with the mirrors. In front there was a beautiful fountain. Today the building is covered waiting for the renovation. Right by the Kursalon was covered promenade Wandelbahn, where their place found many hairdresser's and caffe-bars. Bowling-alley was also here and disco, which was the reason that many people hundreds of kilometres away came to visit Lipik. Ruined in 1991., Kursalon and Wandelbahn are waiting to be renovated.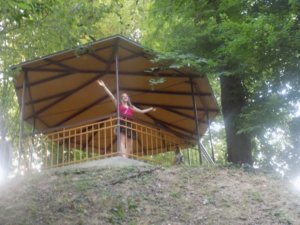 Lake with a little island and bridge were standing right next to the Kursalon, swans and the ducks were the main hosts. "The hill of Jelka" is still there, near the lake, as from the arbor Jelka (daughter of the count Janković) could listen to the music from the pavilion. It's also interesting that palms that we can see at the seafront in Split find their origin in Lipik. Through the park existed many decorational elements like vases and pillars, still there is one remained stone vase. We can see the characters of Adam and Eva on it.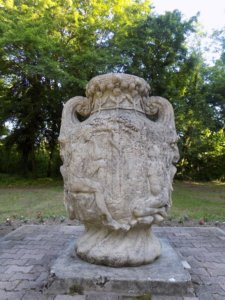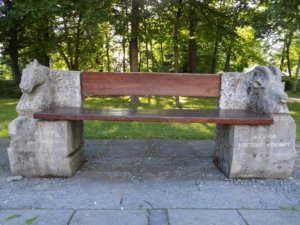 Thermal water and tourism in Lipik
Thermal water from Lipik is unusually warm, at its spring 60°C. Just outside the hospital, at the promenade there's nicely decorated spring and arbor at two floors. It is rich with minerals, like natrium and calcium so that's why appropriate to cure many diseases like sciatica, multiple sclerosis and so on. This mineral water is known as "Lipički studenac".
Once Lipik was the strongest turistic destination, in 1938. the second town in kingdom Yugoslavia with the number of accomodations. Still it was more therapeutical than recreative tourism. To be healed at the springs is a vacation for everyone, not only if someone is in a disease. Lipik offers favourable and comfortable accomodation and dreamy encirclement.
Annual flower show
Annual flower show that usually takes place in the middle of May is a great example how little flower festival can be something more. With its decorations, herbal offer and musical accompaniment, it's a reason to escape from quotidien life. Lipik is very successful as a meeting point of surrounding areas, even Zagreb. Booklets Let's go outside of Zagreb have several times put the organisation together with transport into bringing people to Lipik. Also at the international fair of tourism in Zagreb the excursion to Lipik is put as recommendation.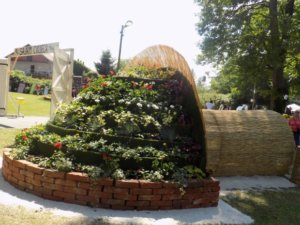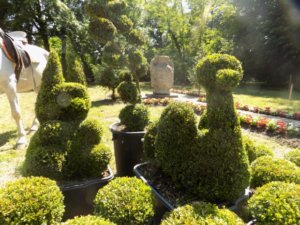 Exhibitors and visitors have multiple benefits as such. It's a place of exchange, of learning, of having fun. I've been there in 2017. which is the 7th year of this happening in Lipik. I've been also there in 2018. Lipik is a great one day destination, but also deserves to be recognized as a weekend spot. Some flower instalations are standing in Lipik as a souvenir of a town permanently so to enter Lipik is like entering a fairy-tale. Locals would says that the flowers are not sufficient to make a fairy-tale but it's a good start to enrich the life and promote the place. The fact is that installations fit into the heart of Lipik just perfect. Peacock with its 3,5 m height and the bouquet of 300 caranfils and other flowers are staying in Lipik from 2015. We are invited by them to experience Lipik in a unique way. Annual flower show will seduce your heart and take you to the best theatre performance without the actors. There will be children's programme, concert and I can just immagine how Lipik looked once with the lovely lake and the bridge, with the Kursalon and the decorations. At the lake Lipik welcomes even the crocodile. Though I didn't see one in any form, there was a sign which was very funny. Many, many decorations will present Lipik in its true light. Though the exhibition area is small itself, it is very capturing to all the senses. Besides the bouquet and the peacock, the entrance door by which are the signs of flowers as destinations will surely put the magic at the right place. To see the palette with flowers instead of colours together with the crayons was like the image of some faraway garden in the world.
Every year there is a new surprise, but being in Lipik at the flower show the whole day or just one hour is so rewarding and promising. Indispensable part of the show is the horse lipizzaner, to see it whole green was the great bingo. The farm of lipizzaners is located in nearby Izidorovac, named by Izidor Janković who started their growth. The fabric of straight glass is another thing that makes Lipik significant. We can see all that in different light during the Advent in December, which makes Lipik a place to go.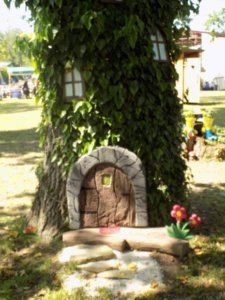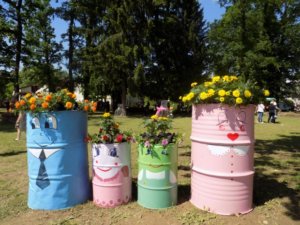 Lipizzaners
The horses named lipizzaners are also the recognizable sign of Lipik, their farm is located in nearby Izidorovac, named by Izidor Janković who started their growth.
One of the monuments in Lipik area is wooden church in Bezine, 8 km from Lipik.
Popular streetball in Lipik
Another specific characteristic for Lipik is streetball, which is being organized here already 17 years. On a smaller field to play than the "normal" basketball and with the stronger rules, it is said to be the exquisite kind of basketball, one special event where you can really learn basketball. After all shapes of streetball, the quality of this play in Lipik gave one new establishment. It is Challenger tournament that FIBA assigned to the streetball game in Lipik, and it was held 08.-09.07.2016. How significant it is proves the fact that the winner of the Lipik 3×3 Challenger gets the Trophy of Dražen Petrović, one of the most succesful basketball players of the world. It is more significant because Dražen Petrović started his basketball at the basket in front of his building in Šibenik and we're coming back to his roots. Not only that, two victorious teams get the participation at WT Master in Prague. Such event is a great example and inspiration that something so significant and worldwide is possible to happen in a small place like Lipik. 11 countries, 16 teams, even the Brazilians who showed their interest put the underline into the enormous strength of the local power. Even more than that, to the power of sport. It was the opportunity for the musical part of the power to come along and the famous band Plavi orkestar took their place.
Happenings in Lipik
There are many other interesting and unique happenings throughout the year in Lipik. Ajvarfest is going on in september and it's a competition between teams in making the best ajvar. Ajvar is a spread made of paprika, oil and eggplant, a bit piquant or not. It is very soft and like a sausage. Ajvarfest makes part in celebrating The Day of a town. Flowers Fair in May bring lots of visitors to Lipik, together with the Day of Health. Advent time before Christmas makes Lipik shine in every possible way. More than 70 000 light decorations and shining balls are being prepared to delight the senses and mind. This year we can find decoration lights made in the shape of the horse, popular lipizzaner. Even the new fountain has found the proper place and it units three symbols of Lipik: water, lipizzaner and the glass. Many things will wait the visitors in one month: advent barouche, house of the Santa Grandma, little express train, the rich gastronomic offer and the fair. Every year something new, but the delight is the same.
Associations in Lipik
Life in Lipik is enriched by many associations. To give the culture more value here is Tilia, the most popular. The trotting club Diamant offers horsmenships of every kind, from therapeutical to touristical, even swimming with horses is included. It is based in Šeovica. From bowling to the mountaineering and ping-pong, there are many other sport associations. Many of them come in the combination with the town of Pakrac. It is worth mentioning the Association of italian people in Lipik, the Association of croatian-french frendship, the Association of croatian-german friendship and several associations for youth.
Where to stay
When coming to Lipik, don't just say that there's not a proper accomodation.
Apartmans Ankin dvor is connected to the thermal springs. Private accomodation we can find at Sobe "Matačić", Sobe "Kovačić", and apartman "Bat". There is also motel "Mimi". More informations you can find here: http://www.lipik.hr/?lang=1&vrsta=3&id=31; Until building up hostel or a hotel, that's all.
All in all
Lipik is indeed an alluring destination to visit, rich with history and inspiring manifestations bring something to be proud of. Small yet elegant it will make you a different person. Presenting itself at the fairs of various towns as counts and countesses it attracts. And teaches how to attract. What can attract you more than swimming and recreation? Lipik will give this options on a palm of your hand. And much more. It will bring you in some other time with its history and give you the world to admire.